Join us for live music gigs in the Hat Factory on the last Saturday of the month, presented by Luton Live/s.
Headliner: Space Pistol
Space Pistol is a Milton Keynes 4-piece British Alt Rock/Grunge super band that was born out of the darkness of lockdown, they provide nothing but delicious dystopian filth to your ears. They have stated that their biggest influences are Nirvana and Queens of the Stone Age. There are two main points that describe Space Pistol, one is that they provide music that makes you rethink your life choices, and two, their music is always definitely too loud!
Support Acts:
Matt Kidr
Hailing from Stevenage, Matt is better known as the front person for local band Auto Pilot Go (https://www.facebook.com/autopilotgouk), this time he will be performing a solo acoustic set, be prepared for something a little different.
The Hat Factory
The Hat Factory is Luton's leading arts and entertainment venue featuring live music, club nights, theatre, dance, films, children's activities, workshops, classes and gallery exhibitions.
It's a centre of artistic excellence set within a vibrant urban environment. It offers the young and the young at heart the chance to engage with the arts, to be inspired by the UK's leading arts practitioners, and to develop artistic skills and confidence.
The Hat Factory is a combined arts venue in the centre of Luton. It opened in 2003 and since then has been the area's main provider of contemporary theatre, dance and music. We work with both emerging and proven producers and artists, through programming, engagement programmes and our Associate Artist scheme. Their music programming is vibrant, offering an eclectic portfolio of high quality artists from the worlds of jazz, blues, folk, world music, indie and hip hop. Complementing their own programming, they welcome local/regional promoters to the venue, broadening their music offer and at the same time supporting young promoters and their businesses. They programme contemporary theatre and dance with a focus on fresh, new and relevant stories from both established and emerging touring companies who are making high quality work in the UK. They've programmed companies like Earthfall, Chickenshed, New International Encounter (NIE), Trestle, Menagerie, Eastern Angles, Atma, State of Emergency, 30 Bird, Tavaziva, Analogue and Jean Abreu Dance to name but a few.
Venue Hire
The Hat Factory has flexible spaces of various sizes to suit every need. See Venue Hire for more information.
Programming
To become part of The Hat Factory's programme, please contact our Head of Arts & Cultural Programmes, Fahim Qureshi at Fahim.Qureshi@LutonCulture.com
Other Live Performance Events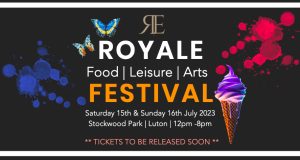 15th Jul - 16th Jul 2023
Royale Fest 2023
Food, Leisure & Arts Festival with Live performances and live cooking stations