These gardening sessions run weekly but on alternate Tuesdays and Fridays, starting Friday 25th March and Tuesday 29th March. Learn how to grow vegetables, create new habitat for wildlife and enjoy this sunny spot with other members of your community
Dates
Friday, March 25, 2022
Tuesday, May 24, 2022 at 10:00am - 12:00pm
Friday, May 27, 2022 at 10:00am - 12:00pm
Tuesday, May 31, 2022 at 10:00am - 12:00pm
Friday, June 3, 2022 at 10:00am - 12:00pm
Tuesday, June 7, 2022 at 10:00am - 12:00pm
Friday, June 10, 2022 at 10:00am - 12:00pm
Tuesday, June 14, 2022 at 10:00am - 12:00pm
Friday, June 17, 2022 at 10:00am - 12:00pm
Tuesday, June 21, 2022 at 10:00am - 12:00pm
Friday, June 24, 2022 at 10:00am - 12:00pm
Tuesday, June 28, 2022 at 10:00am - 12:00pm
Friday, July 1, 2022 at 10:00am - 12:00pm
Tuesday, July 5, 2022 at 10:00am - 12:00pm
Friday, July 8, 2022 at 10:00am - 12:00pm
Tuesday, July 12, 2022 at 10:00am - 12:00pm
Friday, July 15, 2022 at 10:00am - 12:00pm
Tuesday, July 19, 2022 at 10:00am - 12:00pm
Friday, July 22, 2022 at 10:00am - 12:00pm
Tuesday, July 26, 2022 at 10:00am - 12:00pm
Friday, July 29, 2022 at 10:00am - 12:00pm
Tuesday, August 2, 2022 at 10:00am - 12:00pm
Friday, August 5, 2022 at 10:00am - 12:00pm
Tuesday, August 9, 2022 at 10:00am - 12:00pm
Friday, August 12, 2022 at 10:00am - 12:00pm
Tuesday, August 16, 2022 at 10:00am - 12:00pm
Friday, August 19, 2022 at 10:00am - 12:00pm
Tuesday, August 23, 2022 at 10:00am - 12:00pm
Friday, August 26, 2022 at 10:00am - 12:00pm
Tuesday, August 30, 2022 at 10:00am - 12:00pm
Friday, September 2, 2022 at 10:00am - 12:00pm
Tuesday, September 6, 2022 at 10:00am - 12:00pm
Friday, September 9, 2022 at 10:00am - 12:00pm
Tuesday, September 13, 2022 at 10:00am - 12:00pm
Friday, September 16, 2022 at 10:00am - 12:00pm
Tuesday, September 20, 2022 at 10:00am - 12:00pm
Friday, September 23, 2022 at 10:00am - 12:00pm
Tuesday, September 27, 2022 at 10:00am - 12:00pm
Friday, September 30, 2022 at 10:00am - 12:00pm
Tuesday, October 4, 2022 at 10:00am - 12:00pm
Friday, October 7, 2022 at 10:00am - 12:00pm
Tuesday, October 11, 2022 at 10:00am - 12:00pm
Friday, October 14, 2022 at 10:00am - 12:00pm
Tuesday, October 18, 2022 at 10:00am - 12:00pm
Friday, October 21, 2022 at 10:00am - 12:00pm
Tuesday, October 25, 2022 at 10:00am - 12:00pm
Friday, October 28, 2022 at 10:00am - 12:00pm
Tuesday, November 1, 2022 at 10:00am - 12:00pm
Friday, November 4, 2022 at 10:00am - 12:00pm
Tuesday, November 8, 2022 at 10:00am - 12:00pm
Friday, November 11, 2022 at 10:00am - 12:00pm
Tuesday, November 15, 2022 at 10:00am - 12:00pm
Friday, November 18, 2022 at 10:00am - 12:00pm
Tuesday, November 22, 2022 at 10:00am - 12:00pm
Bushmead Community Hub
Bushmead Community Hub
Hancock Drive
Luton
LU2 7SF
Other Family Friendly Events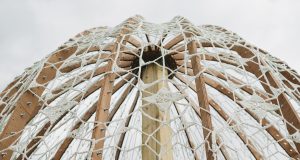 15th Apr - 11th Sep 2022
The Lace Trees
The Lace Trees celebrate Luton's cultural heritage, while symbolically weaving the different people and cultures of Luton, with the past and the future of the town. The Trees are created with the people in Luton and aspire to bring nature and people together.
20th May - 30th Jul 2022
Amaal Said | Home is Elsewhere / From Where I've Ended Up
Departure Lounge is delighted to present Home is Elsewhere/From Where I've Ended Up, a solo exhibition from photographer and artist Amaal Said.