Devil Wears Prada meets Spy Kids in this fabulous and surreal choose-your-own-adventure comedy. The stakes and the shoulder pads have never been higher...
At fashion weeks across the globe, expensive must-have items have been stolen, and every top-secret agent sent to investigate has been kidnapped! With the infamous annual Burnwell-upon-Twynne Fashion Week around the corner, the Secret Agency Service has no other option but to send in the spy academy's entire undergraduate class to solve the case - that's you!
Fashion Spies puts audiences right into the heart of the show. Find yourself on an undercover mission as you travel around the world with Quick Duck Theatre - your choices will help to thwart the biggest threat that fashion has ever seen.
Age Guidance: 7+ , Cartoonish Violence, Flashing Lights

The Hat Factory
The Hat Factory is Luton's leading arts and entertainment venue featuring live music, club nights, theatre, dance, films, children's activities, workshops, classes and gallery exhibitions.
It's a centre of artistic excellence set within a vibrant urban environment. It offers the young and the young at heart the chance to engage with the arts, to be inspired by the UK's leading arts practitioners, and to develop artistic skills and confidence.
The Hat Factory is a combined arts venue in the centre of Luton. It opened in 2003 and since then has been the area's main provider of contemporary theatre, dance and music. We work with both emerging and proven producers and artists, through programming, engagement programmes and our Associate Artist scheme. Their music programming is vibrant, offering an eclectic portfolio of high quality artists from the worlds of jazz, blues, folk, world music, indie and hip hop. Complementing their own programming, they welcome local/regional promoters to the venue, broadening their music offer and at the same time supporting young promoters and their businesses. They programme contemporary theatre and dance with a focus on fresh, new and relevant stories from both established and emerging touring companies who are making high quality work in the UK. They've programmed companies like Earthfall, Chickenshed, New International Encounter (NIE), Trestle, Menagerie, Eastern Angles, Atma, State of Emergency, 30 Bird, Tavaziva, Analogue and Jean Abreu Dance to name but a few.
Venue Hire
The Hat Factory has flexible spaces of various sizes to suit every need. See Venue Hire for more information.
Programming
To become part of The Hat Factory's programme, please contact our Head of Arts & Cultural Programmes, Fahim Qureshi at Fahim.Qureshi@LutonCulture.com
Other Family Friendly Events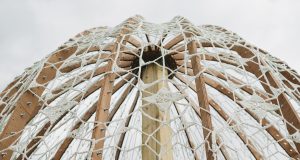 15th Apr - 11th Sep 2022
The Lace Trees
The Lace Trees celebrate Luton's cultural heritage, while symbolically weaving the different people and cultures of Luton, with the past and the future of the town. The Trees are created with the people in Luton and aspire to bring nature and people together.
20th May - 30th Jul 2022
Amaal Said | Home is Elsewhere / From Where I've Ended Up
Departure Lounge is delighted to present Home is Elsewhere/From Where I've Ended Up, a solo exhibition from photographer and artist Amaal Said.