Magic is everywhere. Wear a dress and people treat you one way. Try a pinstripe suit and, abracadabra, it's like you are a different person.
Part social challenge, part autobiography, part attempt at self-recognition, writer, performer Matt Miller examines their own experience of cross-dressing to ask what social role clothes play, how they define and confine us, and how we define ourselves?

Fitting is about Matt's adventures in dresses and suits and also has some magic tricks up its sleeves. From interactions with strangers at bus stops to transgressive explorations in charity shops, follow Matt as they navigate and explode the ground between gender binaries. Matt is interested in how appearances shape how we treat each other. Being visible, being invisible. Making things appear and disappear.
In a show which plays with the idea of performance itself, Matt has brought along some frocks and ties, some sleight of hand, some fitting in and some standing proud. Matt is neither a boy nor a girl but has been both. Matt will do their best, for you.
Matt will be performing. Playing out a version of themselves. Like we all do. After all, magic is everywhere, if you look for it.
In turns comic and touching, Fitting explores our universal experiences of visibility, invisibility and trying to find new places to fit. A theatrical genderqueer glamour fest, Sprinkled with magic and ready to mess with your binaries.
Running Time: 60 minutes (no interval)
Age Guidance: 14+
mild sexual references, some strong language. Performer changes clothes onstage (though no full nudity).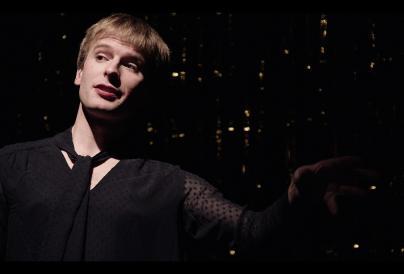 The Hat Factory
The Hat Factory is Luton's leading arts and entertainment venue featuring live music, club nights, theatre, dance, films, children's activities, workshops, classes and gallery exhibitions.
It's a centre of artistic excellence set within a vibrant urban environment. It offers the young and the young at heart the chance to engage with the arts, to be inspired by the UK's leading arts practitioners, and to develop artistic skills and confidence.
The Hat Factory is a combined arts venue in the centre of Luton. It opened in 2003 and since then has been the area's main provider of contemporary theatre, dance and music. We work with both emerging and proven producers and artists, through programming, engagement programmes and our Associate Artist scheme. Their music programming is vibrant, offering an eclectic portfolio of high quality artists from the worlds of jazz, blues, folk, world music, indie and hip hop. Complementing their own programming, they welcome local/regional promoters to the venue, broadening their music offer and at the same time supporting young promoters and their businesses. They programme contemporary theatre and dance with a focus on fresh, new and relevant stories from both established and emerging touring companies who are making high quality work in the UK. They've programmed companies like Earthfall, Chickenshed, New International Encounter (NIE), Trestle, Menagerie, Eastern Angles, Atma, State of Emergency, 30 Bird, Tavaziva, Analogue and Jean Abreu Dance to name but a few.
Venue Hire
The Hat Factory has flexible spaces of various sizes to suit every need. See Venue Hire for more information.
Programming
To become part of The Hat Factory's programme, please contact our Head of Arts & Cultural Programmes, Fahim Qureshi at Fahim.Qureshi@LutonCulture.com
Other Live Performance Events
Sat 28th Mar 2020
Ogg 'n' Ugg and the World's First Dogg
A comic family show exploring the evolutionary process of the wolf through puppetry, song and delightful storytelling.
Sat 28th Mar 2020
Basement Live
Basement Live is a free local band night taking place in the Basement Bar of the Hat factory on the last Saturday of the month featuring local artists and bands from Luton, Bedfordshire and Hertfordshire.
Mon 30th Mar 2020
CANCELLED. Beethoven - Piano 4
Born in the Czech Republic piano virtuoso Slávka Vernerová- Pěchočová returns to Luton to play 3 pieces by Beethoven.