Every third Friday of the month join resident MC Jake Pickford for an evening of stand-up comedy from the nation's up and coming talent.

December Line up:
Headline Act: President Obonjo.
In the age of Trump, populism and Brexit, the world probably doesn't need another bloated ego pretending to give easy solutions. Thankfully what we need is a comedy character who skewers them with precision, hilarity and who isn't afraid at showing vulnerability.
What the press have said:
It's a great comic construct, with lots of seized opportunities for playing with the clichés" – Chortle
Supporting Acts:
Ben Briggs
Emily Woods
Mr Spooky
Jenan Younis
January Line-up:
Pauline Eyre
"Pauline's warm wit and honest charm has made her a favourite with our audiences" - The Poodle Club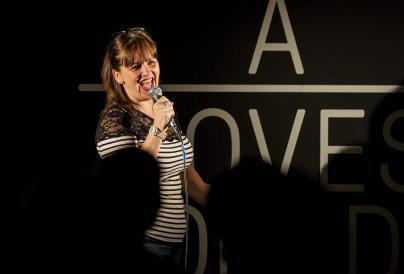 Full Line-up TBC
February Line-up:
Molly Mulshine
Molly Mulshine has performed at comedy clubs and festivals around New York and London. She has written for Elle, Glamour and Cosmopolitan and she hosts the Diva Behavior podcast.
Samantha Day
"Warm, engaging, raw and very very funny. Samantha delivered a hilarious, polished & professional performance that had the audience hanging on every word and wanting more! A real rough diamond. Watch this space......" - Crazy Bird Comedy Club
March Line-up:
Sean Gorman
Since starting, Sean has quickly proven to have a bright future in stand up. Within the first couple of years he reached the finals of the Reading Fringe New Act, Piccadilly Comedy Club New Act and South Coast Comedian of The Year competitions. Displaying the stage presence of a more seasoned comedian, his deadpan delivery of self-deprecating humour have the audience hanging on every word.



Sally Firth
Sian Doughty been performing stand up since October 2013, and as "Sally Firth" since the summer of 2014. She is the winner of the first Stand Up Nights Competition in 2019. "Sally Firth" was named One To Watch by Funny Women in 2016 and 2017, was a semi-finalist in Welsh Unsigned Act of the Year 2017 and a finalist in Silver Stand Up of the Year and Golden Comedian of the Year in 2018.




Stella Graham
Stella Graham is a naturally funny stand-up comedian. Shameless, candid, charmingly aggressive and unladylike, she's the funniest half Sri Lankan lass from Coventry.




"If you're a TV executive, drop what you're doing and go see her now" - The Skinny.




Age guidance: 16+
Content may contain adult themes and strong language

Future Line-ups TBC - Watch this Space!
Dates
Friday, September 20, 2019
Friday, February 21, 2020 at 8:00pm - 10:30pm
Friday, March 20, 2020 at 8:00pm - 10:30pm
Friday, April 17, 2020 at 8:00pm - 10:30pm
Friday, May 15, 2020 at 8:00pm - 10:30pm
Friday, June 19, 2020 at 8:00pm - 10:30pm
Friday, July 17, 2020 at 8:00pm - 10:30pm
The Hat Factory
The Hat Factory is Luton's leading arts and entertainment venue featuring live music, club nights, theatre, dance, films, children's activities, workshops, classes and gallery exhibitions.
It's a centre of artistic excellence set within a vibrant urban environment. It offers the young and the young at heart the chance to engage with the arts, to be inspired by the UK's leading arts practitioners, and to develop artistic skills and confidence.
The Hat Factory is a combined arts venue in the centre of Luton. It opened in 2003 and since then has been the area's main provider of contemporary theatre, dance and music. We work with both emerging and proven producers and artists, through programming, engagement programmes and our Associate Artist scheme. Their music programming is vibrant, offering an eclectic portfolio of high quality artists from the worlds of jazz, blues, folk, world music, indie and hip hop. Complementing their own programming, they welcome local/regional promoters to the venue, broadening their music offer and at the same time supporting young promoters and their businesses. They programme contemporary theatre and dance with a focus on fresh, new and relevant stories from both established and emerging touring companies who are making high quality work in the UK. They've programmed companies like Earthfall, Chickenshed, New International Encounter (NIE), Trestle, Menagerie, Eastern Angles, Atma, State of Emergency, 30 Bird, Tavaziva, Analogue and Jean Abreu Dance to name but a few.
Venue Hire
The Hat Factory has flexible spaces of various sizes to suit every need. See Venue Hire for more information.
Programming
To become part of The Hat Factory's programme, please contact our Head of Arts & Cultural Programmes, Fahim Qureshi at Fahim.Qureshi@LutonCulture.com
Other Live Performance Events
25th Jan - 26th Jan 2020
Brit Funk Superband ATMOSFEAR Live in Luton Sat 25th Jan!
UK BritFunk superband ATMOSFEAR in Luton! Saturday 25th Jan at the Bear Club, Guildford Street, 2mins walk from Luton station. WE ONLY HAVE 100 TICKETS ON SALE so this will be very special and very exclusive indeed. Make sure you get yours quickly!
Sat 25th Jan 2020
People's Park Cafe Fundraiser
Join us for live music, DJ, world food buffet, cash bar and an auction of promises. And fun!
Mon 27th Jan 2020
Celebrating Beethoven's piano sonatas
Frenchman Patrick Hemmerlé plays piano music by Beethoven and also by four Russian composers.