Tony specialises in fantasy art for books, games, magazines and more. In this session, Tony talk's about his career as an illustrator and will answer questions from the audience in a Q&A session at the end.
"I create strong figurative art and illustrations of odd and fantastic things: Warped reality, myth and fable, future visions and imagined horrors, in a variety of media for private collectors, games and publications; album covers, posters and backdrops for bands and nightclubs; murals and community art, concept designs for film and TV projects. I have even had some training as a tattooist!"
"My original works have been exhibited and sold in London, Scunthorpe, Nottingham and Birmingham."
Suitable for teens to adults.
This is an in-person event at the Hat Factory.
4-5pm in the Hat Factory Floor. Ages 16+
You can book tickets to take part in Planet Poets through the Culture Trust website.
Tickets for all the author events and workshops will need to be booked in advance through the Culture Trust website and all children must be accompanied by an adult.
Luton Literature Book Festival is Funded by Arts Council England, with funding support from Luton Rising, Luton BID, and Flamingo Arts, and is supported by 1 Degree East, The Culture Trust, Luton Libraries and the University of Bedfordshire.
Please contact the box office on 01582 878100 with any booking queries.
For more information about Luton Literature Book Festival visit the
Running time: 60 minutes
Dates
Saturday, September 24, 2022
The Hat Factory
The Hat Factory is Luton's leading arts and entertainment venue featuring live music, club nights, theatre, dance, films, children's activities, workshops, classes and gallery exhibitions.
It's a centre of artistic excellence set within a vibrant urban environment. It offers the young and the young at heart the chance to engage with the arts, to be inspired by the UK's leading arts practitioners, and to develop artistic skills and confidence.
The Hat Factory is a combined arts venue in the centre of Luton. It opened in 2003 and since then has been the area's main provider of contemporary theatre, dance and music. We work with both emerging and proven producers and artists, through programming, engagement programmes and our Associate Artist scheme. Their music programming is vibrant, offering an eclectic portfolio of high quality artists from the worlds of jazz, blues, folk, world music, indie and hip hop. Complementing their own programming, they welcome local/regional promoters to the venue, broadening their music offer and at the same time supporting young promoters and their businesses. They programme contemporary theatre and dance with a focus on fresh, new and relevant stories from both established and emerging touring companies who are making high quality work in the UK. They've programmed companies like Earthfall, Chickenshed, New International Encounter (NIE), Trestle, Menagerie, Eastern Angles, Atma, State of Emergency, 30 Bird, Tavaziva, Analogue and Jean Abreu Dance to name but a few.
Venue Hire
The Hat Factory has flexible spaces of various sizes to suit every need. See Venue Hire for more information.
Programming
To become part of The Hat Factory's programme, please contact our Head of Arts & Cultural Programmes, Fahim Qureshi at Fahim.Qureshi@LutonCulture.com
Other Live Performance Events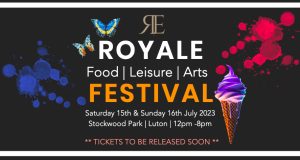 15th Jul - 16th Jul 2023
Royale Fest 2023
Food, Leisure & Arts Festival with Live performances and live cooking stations