Luton Literature pressents: Welcome to Gay Club with Simon James Green
GAY CLUB! is a landmark comedic novel by Simon James Green, about a group of queer teens at their worst – and ultimately their best – from one of the UK's leading writers of LGBTQ+ teen fiction.
Simon James Green will be talking about his inspiration for the book, which includes elements of LGBT history, and why we should all take inspiration from the characters of GAY CLUB! Featuring comedy anecdotes from his own hapless teenage years, this event contains a positive message and a rallying call to action for anyone who wants to make the world a more open, accepting, and kinder place. 
This is a hybrid event, and people can attend either in-person at the Hat Factory or join the online stream.
5.30-6.30pm in the Hat Factory Theatre. Ages 16+
You can book tickets to see Simon James Green through the Culture Trust website.
Tickets for all the author events and workshops will need to be booked in advance through the Culture Trust website and all children must be accompanied by an adult.
Luton Literature Book Festival is Funded by Arts Council England, with funding support from Luton Rising, Luton BID, and Flamingo Arts, and is supported by 1 Degree East, The Culture Trust, Luton Libraries and the University of Bedfordshire.
Please note, this event will be live streamed. Members of the audience may appear or be heard on the live stream if participating in the event on stage or taking part in Q&As. Backs of heads may also be visible on the live stream, depending on where people are sat in the Theatre. Tickets are purchased on the understanding and agreement that you may appear on the live stream and future broadcasts of the event.
Please contact the box office on 01582 878100 with any booking queries.
For more information about Luton Literature Book Festival visit the Luton Literature website.

Running time: 60 minutes
Dates
Saturday, September 24, 2022
The Hat Factory
The Hat Factory is Luton's leading arts and entertainment venue featuring live music, club nights, theatre, dance, films, children's activities, workshops, classes and gallery exhibitions.
It's a centre of artistic excellence set within a vibrant urban environment. It offers the young and the young at heart the chance to engage with the arts, to be inspired by the UK's leading arts practitioners, and to develop artistic skills and confidence.
The Hat Factory is a combined arts venue in the centre of Luton. It opened in 2003 and since then has been the area's main provider of contemporary theatre, dance and music. We work with both emerging and proven producers and artists, through programming, engagement programmes and our Associate Artist scheme. Their music programming is vibrant, offering an eclectic portfolio of high quality artists from the worlds of jazz, blues, folk, world music, indie and hip hop. Complementing their own programming, they welcome local/regional promoters to the venue, broadening their music offer and at the same time supporting young promoters and their businesses. They programme contemporary theatre and dance with a focus on fresh, new and relevant stories from both established and emerging touring companies who are making high quality work in the UK. They've programmed companies like Earthfall, Chickenshed, New International Encounter (NIE), Trestle, Menagerie, Eastern Angles, Atma, State of Emergency, 30 Bird, Tavaziva, Analogue and Jean Abreu Dance to name but a few.
Venue Hire
The Hat Factory has flexible spaces of various sizes to suit every need. See Venue Hire for more information.
Programming
To become part of The Hat Factory's programme, please contact our Head of Arts & Cultural Programmes, Fahim Qureshi at Fahim.Qureshi@LutonCulture.com
Other Live Performance Events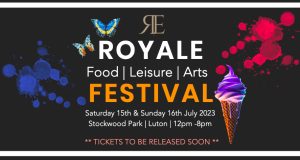 15th Jul - 16th Jul 2023
Royale Fest 2023
Food, Leisure & Arts Festival with Live performances and live cooking stations